Welcome to our complete guide to choosing decorative pillows for the sofa.
Since the start of the global Covid-19 pandemic, we've all been spending much more time at home.
It's given many of us time to look around at our home décor and think how I can make this space cozier? Well, a straightforward way to spruce up your home is to add decorative pillows.
You can place them on your couch where you spend the most time relaxing. Not only do pillows brighten up a room, but they are also very comfortable and make lounging something to look forward to at the end of the day.
Top 5 Decorative Handmade Pillows
1. Decorative pillow with cacti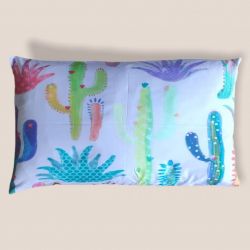 This beautiful and original pillow with cacti is handmade.
The bright colours will add life to your living room or balcony.
Handmade in Switzerland
Hand painted
Cussion & Pillow
Dimension: 30cm x 50cm
2. Decorative pillow "Mermaid"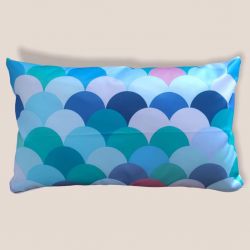 Another colorful and creative pillow that will make your home more warm and cozy.
Handmade in Switzerland
Hand painted
Cushion & pillow
Dimension 30 x 50
3. Pillow with hand painted parrot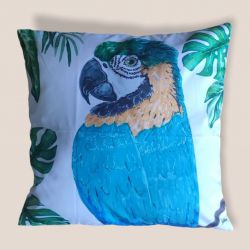 Square pillow with a parrot will make your sofa live and bright
Handmade in Switzerland
Hand painted
Cushion & Pillow
Dimension 50 x 50
4. Hand Painted Pillow with Frida Kahlo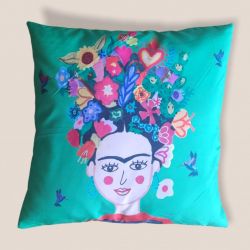 Original handmade pillow with Frida Kahlo. One of the most famous Mexican painters. This nature inspired pillow can be also a great gift.
Handmade in Switzerland
Hand Painted
Cushion & Pillow
Dimension 50 x 50
5. Handmade Pillow "Otomi"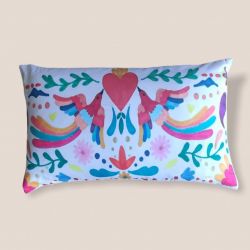 Fauna and native flora design will take you to Mexico to Otomi people.
Handmade in Switzerland
Hand Painted
Cushion & Pillow
Dimension 30 x 50
How to Choose Decorative Pillows?
Decorative throw pillows are a simple yet versatile way to style your room. They're also pretty affordable, which means you can mix and match your pillows all year round.
Choose pillows based on the room's color scheme, the time of year or season, and whether you want to go festive with holiday-themed patterns.
A foolproof way of decorating your couch with pillows is to follow a simple equation. Choose one solid color, a large bold print, and a small print.
Always try to stay along with the same color palette and use colors and images that complement each other.
Add fun to your pillow décor by creating a theme based on your favorite movie, character, or cartoon.
The possibilities are endless. All you need to choose pillow sets is a bit of imagination.
What Size of Pillow Should You Choose?
Couch pillows shouldn't be too large and bulky; after all, you do need space to sit or lie down! They are also meant to enhance the comfort of your sofa, so you don't want pillows to be obstructing your level of comfort.
Ideally, you can't go wrong with standard square-size pillows of about 45 cm. More giant, oversized pillows (60 cm) can create a more cozy, casual aesthetic, but they should be placed on the far corners of the couch with the smaller pillows in the middle.
For low-back sofas, 35cm squares are just about the right size. Decorative pillows also come in round shapes or bolsters. These should also be reasonably proportioned to add style but not take up too much space.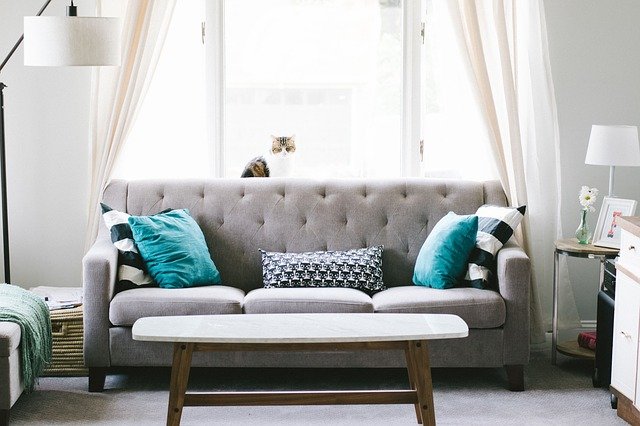 How Many Pillows to put on the sofa?
The number of pillows on your sofa depends on the size of it. A golden rule is that there can't be too many or too few.
Too many pillows look cluttered, and too few give a sparse, bare appearance. There needs to be a balance when placing pillows. The average-sized household sofa can accommodate 5-7 pillows without being too cluttered.
You can arrange them by placing them in groups or sections. For instance, try two pillows at each end or corner of the sofa with three pillows in the middle.
It will give you enough leverage to mix and match colors, sizes, and patterns to suit your décor ideas. It will not take much space from your couch so you can rest comfortably, use pillows to prop yourself up, or rest on without feeling cramped.
You can also mix and match various sizes of pillows. Just remember to keep it functional, comfortable, and stylish.
What is the Best Fabric for Decorative Pillows?
Decorative pillows for your couch may come in many different types of fabrics. However, every kind of fabric serves different purposes and occasions.
For everyday comfort, cotton and linen pillows are the best as they are low maintenance. These fabrics are durable, easy to wash and give a light, summertime ambiance.
Velvet and wool pillows are perfect for the colder months as they create warm and cozy vibes.
Fur or faux fur accent pillows add a luxurious appeal, but they are harder to clean, and most are dry clean only. Choose soft, warm fabrics that aren't scratchy or embellished with pointy or jagged items. Don't forgo comfort for style or aesthetics.
Where Can You Buy Decorative Pillows Online?
Online shopping has expanded over the past decade. Nowadays, you can purchase almost any item from the comfort of your own home.
You can easily find decorative pillows on any home décor site or significant shopping sites. Despite the wide selection of products on the market, it is sometimes tough to pick up the best one to suit your needs.
You may be faced with the questions such as
"Which color, material, or size should I choose?"
"Where can I find pillows to suit my budget?"
"How good is the quality?"
"Which one is the best pillow for me?"
"Where can I buy an original or handmade pillow?"
Luckily, on HANDCRAFTS you can find many pillows and pillowcases that are original, special, and made with love.
Whether you want to make your sofa outstanding and cozy or simply a comfortable place to relax, you're sure to find something from our catalog to suit your décor vision. You can get great quality pillowcases with great prices and outstanding customer service. Our catalog is also expanding and opening up new options and designs for even more variety. You can find other products that can match your room design to make it look more put together and beautiful.
Summary

Sprucing up your home doesn't mean you have to undergo a whole renovation project. Simple accents such as adding vibrant decorative pillows can make a world of difference.
You can brighten up a room with pillows in colors that pop or create a warm, cozy lounge by adding the right combination of fabrics, materials, and placement. Breathe new life into an old couch by setting up some modern prints, different shapes or pillow styles, and creating a whole new look.
Decorative pillows aren't hard to style or match. Once you have a color scheme or theme in mind, the rest is straightforward to maneuver. You can be very creative with decorative pillows for your couch and create your dream aesthetic for comfortable lounging and beautiful, unique home décor.